Canadian Prime Minister, Justin Trudeau has retained power in the federal election held on October 21 but his Liberal Party lost the majority seat in the country's legislative body, ABC News can report.
According to a BBC report, Mr. Trudeau's Liberals won 157 seats instead of the 170 needed to form a majority in parliament.
Meanwhile, the opposition Conservative party gained 26 more votes, giving them 121 votes in Parliament, while, the Bloc Québécois gained 22 seats and the leftwing New Democratic party lost 15.
Overall voter turnout was down at 62%, from 68% in 2015, according to the British media.
A separate report from British's Daily Newspaper, the Guardian, indicates that Prime Minister Trudeau's election result was better than feared amongst political commentators owing to several scandals, one involving interference in a court case and another involving him wearing racist costumes in the past.
Below is an analysis of the election results:
Reacting to his re-election, Mr. Trudeau wrote on his Twitter handle, "Thank you, Canada, for putting your trust in our team and for having faith in us to move this country in the right direction."
Although he will have to be Prime Minister of a minority government, Justin Trudeau noted that "Regardless of how you cast your vote, our team will work hard for all Canadians."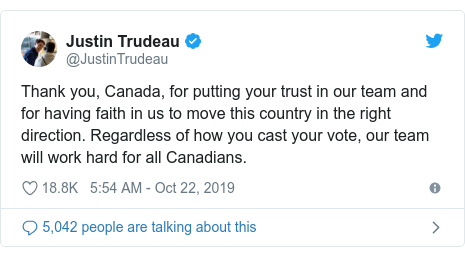 Several world leaders, including American President, Donald Trump and UK Prime Minister, Boris Johnson all congratulated the Canadian Prime Minister on his re-election in the early hours of Tuesday, October 22.
Congratulations to @JustinTrudeau on a wonderful and hard fought victory. Canada is well served. I look forward to working with you toward the betterment of both of our countries!

— Donald J. Trump (@realDonaldTrump) October 22, 2019