President-elect of the United States of America, Joseph Biden says he is hopeful of engaging and working together with President Nana Addo Dankwa Akufo-Addo in the future.
According to him, the common problems facing both countries and their peoples should that make it relevant to strengthen the relationship between the countries.
He disclosed this in a letter replying to President Akufo-Addo's congratulatory message to him upon winning the US election.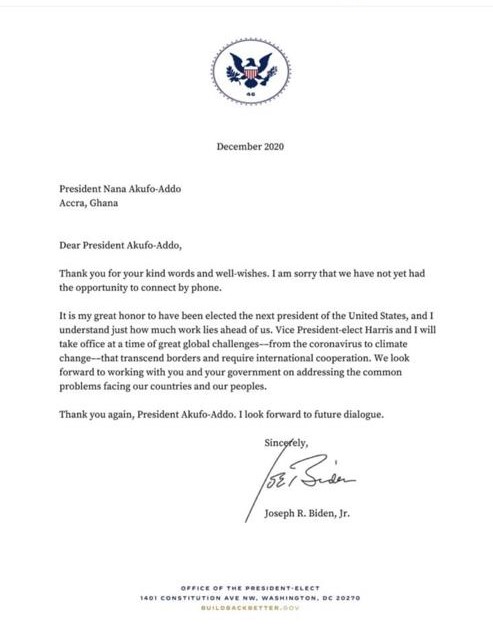 "We look forward to working with you and your government on addressing the common problems facing our countries and our people, I look forward to future dialogue," the letter read.
Joe Biden apologized for his delay in response and his inability to speak to President Akufo-Addo on phone personally, explaining that he took office at a time the Covid-19 pandemic put a heavy toll on him.
"Vice President-elect Harris and I will take office at a time of great global challenges from the coronavirus to climate change that transcend borders and require international corporation," he added.
Mr Biden is expected to be inaugurated on January 20, two weeks after President Akufo-Addo's January 7 swearing-in ceremony.